x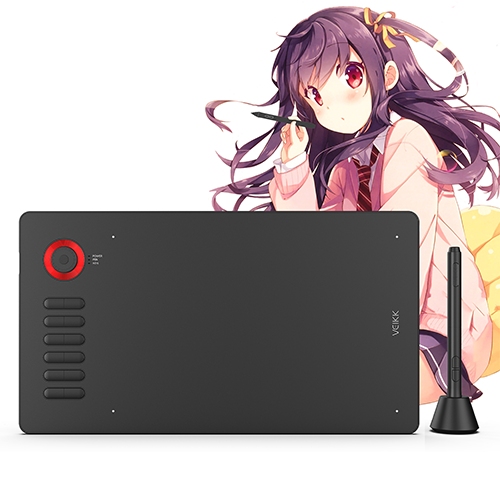 Creator A15Pro
A quick dial and 12 customizable shortcuts can significantly increase productivity, and the 8192 level pressure sensitivity and 290 PPS reporting rate of the battery-free pen allows you to create freely in a 10x6 inch workspace. 4 classic and personalized colors to choose from.
Increase your productivity: Features a quick dial and 12 customizable keys. The quick dial can be programmed for canvas zoom, brush adjustment and page scrolling. The 12 customizable shortcut keys provide faster access to the functions you use most, you can customize them to suit your usage habits. They greatly simplify your workflow, and you would not have to have a keyboard close.
Fabulous creative experience: The P02 battery-free pen has 8192 levels of pressure sensitivity, 290PPS reporting rate and supports ±60° tilt function. It makes lines smoother and more natural, capturing ideas faster and easier, and lasts uninterrupted without recharging or replacing the battery, giving you a great experience.
Ultra Large Drawing Area: With a large active area of 10x6 inches, the Veikk A15Pro drawing tablet provides plenty of space for creating your digital artwork. The slim and lightweight body of only 9mm makes it quite convenient and portable. In addition, the USB-C port on this drawing board brings a more stable transmission.
Ideal Tool for Different Areas: Perfect for beginners and professional digital artists for drawing, animation, photo-editing, 3D Modeling, or design work. It is also an ideal tool for online education and remote working. It can not only be used with a computer, but also with an Android phone.
Broad Compatibility:Compatible with Mac 10.12 or above, Windows 11/10/8/7, Linux OS and Android 6.0 or above. And it works with major design software, such as Photoshop, Illustrator, Sai, Corel painter, Comic studio, MediBang Paint, Paintstorm Studio ,Clip Studio, Krita ,Zbrush,etc.
Learn More
(4.66) Share your product experience
Buy


Shipping and Delivery
Standard Shipping
5-20 business days, Free shipping on orders over $49 for some countries
Expedited Shipping
3-7 business days
Returns/exchanges
Free within 30 days of your purchase
Warranty
24 months limited hardware warranty
Dimension: 358 x 200 x 9mm
Model: A15Pro
Working Area: 10" x 6"
Report rate: 290 PPS
Resolution: 5080 LPI
Pen: P02
Pressure Sensitivity: 8192
Reading Height: 10mm
Port: USB-C
Tilt: 60°
Compatibility: Windows 11/10/8/7, Mac OS 10.12 (or later), Chrome OS 88 (or later), Linux(Ubuntu/elementary OS/Pop!OS/ezgo/debian/mint/mageia/centOS/Arch), Android 6.0 (or later)
Color: Grey/Red/Gold/Blue
Warranty: 24 Months Limited Hardware Warranty
Shortcut Keys: 12
Dial: 1
1 x A15Pro Pen Tablet
1 x USB-C Cable
1 x P02 Battery-free Pen
1 x Pen Case
1 x Pen Holder(8 x Pen Nibs Include)
20 x Pen Nibs
1 x Drawing Glove
1 x Nib Extractor
1 x Quick Start Guide
2 x OTG Connector