x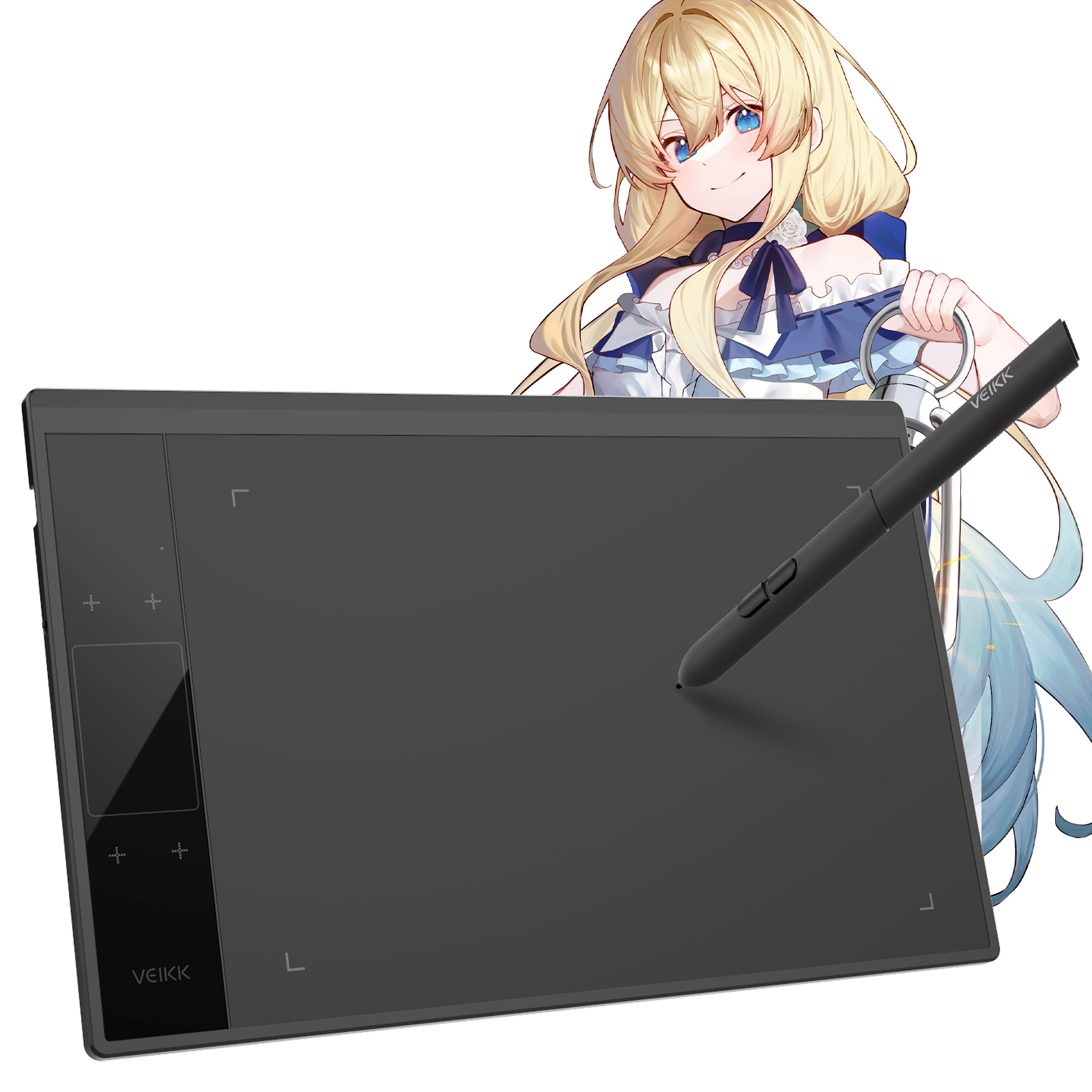 Creator A30
Enjoy the ultimate Touch experience with 4 Touch keys and 1 Touchpad, 8192 levels pressure sensitive, battery-free stylus, 290 PPS reporting rate and 5080LPI resolution allows you to express yourself freely on a 10x6 inch working area.
Natural and Precise: 8192 levels of pressure sensitivity provide exquisite strokes and make the lines smoother and natural. The battery-free pen allows you to create without interruption, without the need to replace batteries and recharge.
Large Size, Feel Better : With a sizeable 10x6 inch drawing area, the A30 drawing tablet offers more space for artistic creation. In addition, the matte surface facilitates increased friction and makes your writing feel closer to the paper, so you can draw as you wish.
Supports Left and Right handed: The A30 design tablet comes with a type-c port design which allows to plug in and out in either direction, making it more convenient and stable. It supports both right and left-hander. The A30 digital drawing tablet comes with an additional 8 pen tips, 1 drawing tablet film, and an artist's glove. You don't need to buy extra accessories, saving your time and making drawing more convenient.
Widely Used: Designed for drawing, design, online education, E-signature, as well as photo/video editing. It is compatible with Windows, Mac, Android, Chrome OS and Linux. You can start your artwork with A30 in most software like Adobe Photoshop, SAI, Adobe Illustrator, Corel Painter, Clip Studio, SketchBook, MediBang, Zbrush, Krita, Gimp, etc.
Learn More
(5.00) Share your product experience
Buy


Shipping and Delivery
Standard
2-15 business days, Free shipping on orders over $24 in most countries, some countries may have shipping fee, please check on order page
Tax
All prices listed exclude import fees and customs duties. Customers may be subject to these fees.
Returns/exchanges
Free within 30 days of your purchase
Dimension: 332 x 212 x 9mm
Model: A30
Working Area: 10" x 6"
Report rate: 290 PPS
Resolution: 5080 LPI
Pen: P01
Pressure Sensitivity: 8192
Reading Height: 10mm
Port: USB-C
Tilt: 60°
Compatibility: Windows 11/10/8/7, Mac OS 10.12 (or later), Chrome OS 88 (or later), Linux(Ubuntu/elementary OS/Pop!OS/ezgo/debian/mint/mageia/centOS/Arch), Android 6.0 (or later)
Color: Black
Warranty: 18 Months Limited Hardware Warranty
Shortcut Keys: 4
1 x A30 Pen Tablet
1 x USB-C Cable
1 x P01 Battery-free Pen
1 x Pen Case
8 x Pen Nibs
1 x Nib Extractor
1 x Quick Start Guide
2 x OTG Connector
1 x Transparent Film
1 x Drawing Glove