x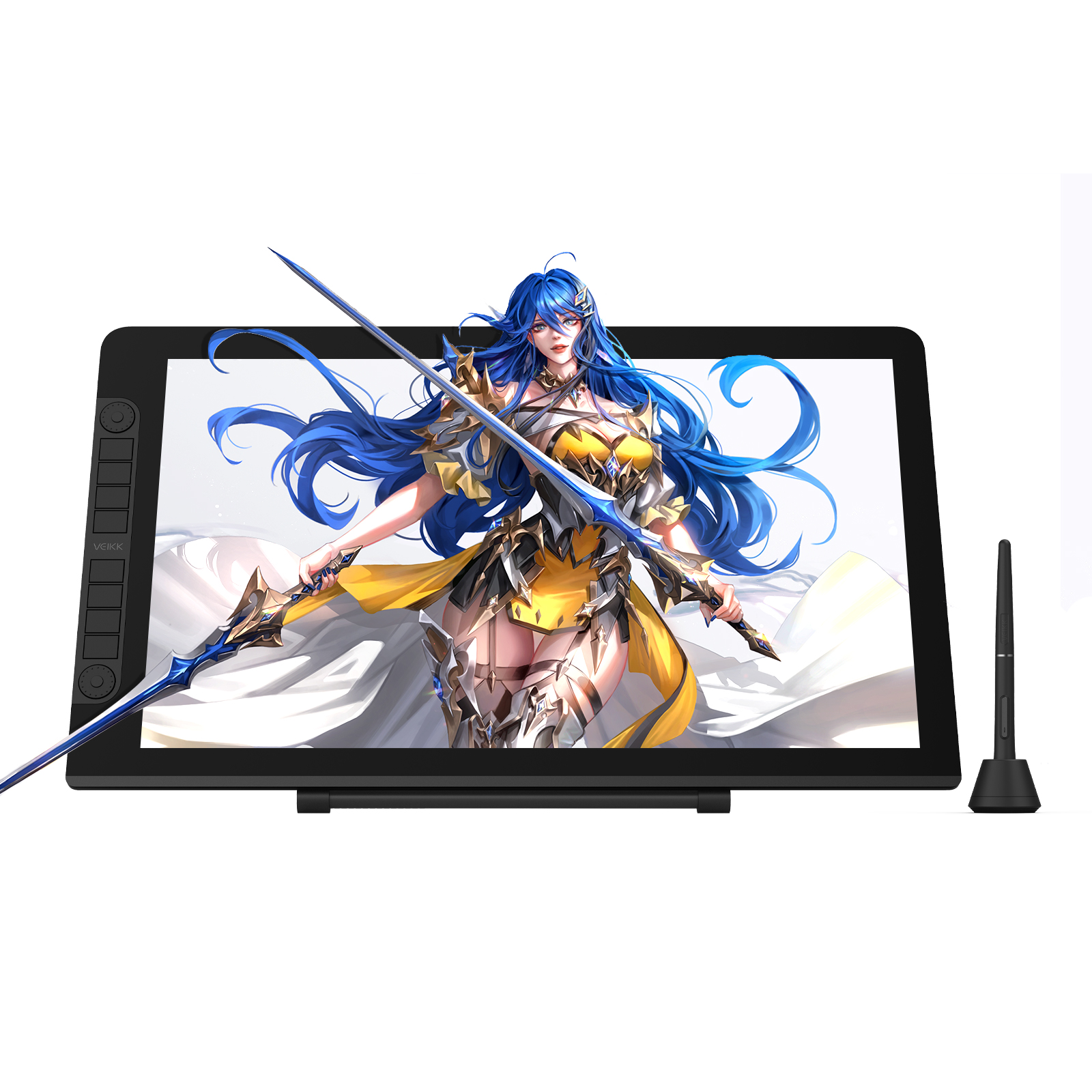 Studio VK2200 Pro
Level up your digital work space and art skills on a 21.5-inch, 1920x1080 FHD IPS screen. 2 quick dials and 8 silent shortcuts fully meet your productivity needs; the dual-head USB-C design allows connection to other devices without an adapter.
Feast the hands on slim design: First seen on display, it combines the shortcuts and the screen without any extra gap. Unlike typical pen displays, it looks more elegant and memorable and thinner to 18mm.
Designed for the creative process: Comes with 2 Quick Dials and 8 Silent Shortcut Keys which allow keeping creativity flowing. You can set functions in the driver like zoom in/out, brush+/- and undo etc. on two Quick Dials to process 8 customized functions. Or you can just choose using one of them to meet your personal needs.
Full Laminated and High Resolution: Experience vibrant colors with 16.7 million colors, 92% NTSC/120%sRGB on the VK2200 Pro Pen Display, and work as long as you'd like with the battery-free pen.
Natural and Precise:Enjoy amazing precision and reduced Parallax with 8,192 pressure levels and 60° tilt function, low activation force, and tilt recognition, and get into the perfect position with the included adjustable stand.
To your platform: It's compatible with Windows 11/10/8/7, Mac OS 10.12 and above, Chrome OS 88 and above, and Linux. You can use it on creative program like Adobe Photoshop, paint tool sai, illustrator, Corel draw, Corel painter, sketchbook, manga studio, clip studio paint, and more.
Learn More
(4.68) Share your product experience
Buy


Shipping and Delivery
Standard Shipping
5-20 business days, Free shipping on orders over $49
Expedited Shipping
3-7 business days
Returns/exchanges
Free within 30 days of your purchase
Warranty
24 months limited hardware warranty
Dimension: 556 x 330 x 18mm
Model: VK2200 Pro
Working Area: 21.5"
Report rate: 290 PPS
Pen: P05
Pressure Sensitivity: 8192
Reading Height: 10mm
Tilt: 60°
Compatibility: Windows 11/10/8/7, Mac OS 10.12 (or later), Chrome OS 88 (or later), Linux(Ubuntu/elementary OS/Pop!OS/ezgo/debian/mint/mageia/centOS/Arch), Android 6.0 (or later)
Color: Black
Warranty: 24 Months Limited Hardware Warranty
Full Lamination: Yes
Screen Resolution: 1920 x 1080
Visual Angle: 178°
Power Supply Input: AC 100~240V
Shortcut Keys: 8
Dial: 2
1 x VK2200Pro Pen Display
1 x USB Cable
1 x USB-C to USB-C Cable
1 x HDMI Cable
1 x Power Cable
1 x Power Adaptor
2 x P05 Battery-free Pen
2 x Pen Case
1 x Pen Holder (8 x Pen Nibs Included)
20 x Pen Nibs
1 x Nib Extractor
1 x Quick Start Guide
1 x Drawing Glove
1 x Cleaning Cloth